Graderworks 4.30
Fixed user interface problems
Fixed several minor bugs
Upgrade to SW2022. Please be aware that SW2022 counts solid bodies slightly differently than previous version of SW
Graderworks 4.19-4.23
Fixed a problem with extracting the username from the file names.
Fixed user interface problems
In the age of covid-19, finding new types of assignments and the corresponding grading that can be given asynchronous is essential. To help with the giving of quizzes, we added a new rubric item that will check how long the student spent working on the file. The total time spent on the file is calculated as the (save date) minus (creation date). You can now specify the maximum amount of time the student should be editing the file. If the student's edit time exceeds the maximum, then a grading penalty can be applied.
Graderworks 4.17
This version fixed minor bugs throughout the software.
Graderworks 4.16
Graderworks now supports SOLIDWORKS 2020 and ends support for SOLIDWORKS 2017.
In SOLIDWORKS 2020, a new bug in the API prevents checking for assembly interference and then saving the model as a .stl file. As a result, we have disabled the interference check as a grading item until SOLIDWORKS can fix the problem.
Graderworks 4.09
Graderworks 4.09 has several new features
Engineering Drawing Grading.

Graderworks has new grading items for engineering drawings. You can now check the number of annotations in an engineering drawing and the types of views in an engineering drawing.
The engineering drawing to be graded must reference the part or assembly model that you supply as the correct answer.

You can now configure a default rubric item. Create your rubric item, then click check "use as default". Future rubric items that you create will be based on your default template.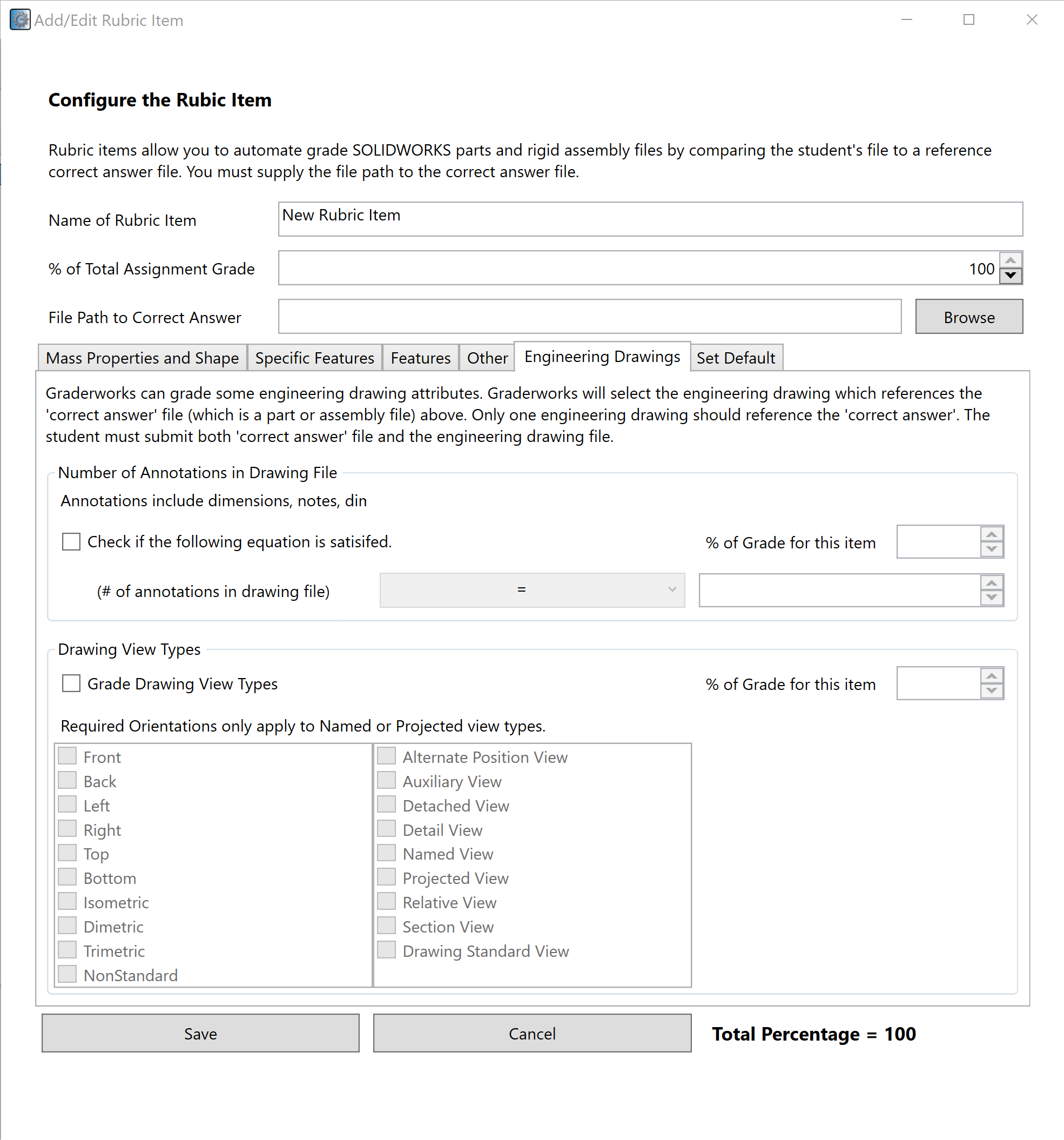 ---
Graderworks 4.07
Graderworks 4.07 has several new grading items.
Specific feature count
This grading item can check if a student has a particular number of a particular type of feature or if they have too many of one specific feature. Let's say that you are teaching students how to use circular pattern tools. The student's homework could be accomplished in a variety of ways without using a circular pattern, but now you can require a circular pattern and deduct points if it is missing.

Let's say that this part with the circular pattern should use the hole wizard to make several cuts. The student should not use a simple extrude cut. This requirement can be easily incorporated into the rubric as well.

Feature count
Often, you are concerned about students cramming every detail into a single sketch and then extruding it. This modeling strategy can create problems when you go to edit your model and is generally not something you want your students to use. While teaching proper modeling techniques, you can require the student's model has at least a particular number of features. As a second example, when students are following a tutorial from a textbook, you can check if they followed it precisely by grading the number feature in their parts.

Check for Assembly Interference
When students submit assemblies, Graderworks can check and grade assembly interference.

Units
You can now check the units that the model was saved in.

Solid BodyCount
Students often submit files that have multiple bodies on accident when they uncheck "merge result". You can check for this type of mistake with Graderworks. Alternatively, some modeling strategies require making multi-body parts, and you can check the student has correctly made this type of part.

---
Join our free mailing list!