November 2016
Garland Industries is happy to announce that Graderworks is now an official SOLIDWORKS solution partner!
Our goal with Graderworks is to make teaching easier for SOLIDWORKS educators by giving them the technological tools to help educate the next generation of SOLIDWORKS users. Similar to learning other skills, the best way to become proficient at SOLIDWORKS is practice. The challenge of assigning large amounts of 3D modeling practice problems is finding time to grade them all. Graderworks helps solve the problem by giving the educator the tools needed to automate grading of SOLIDWORKS files quickly.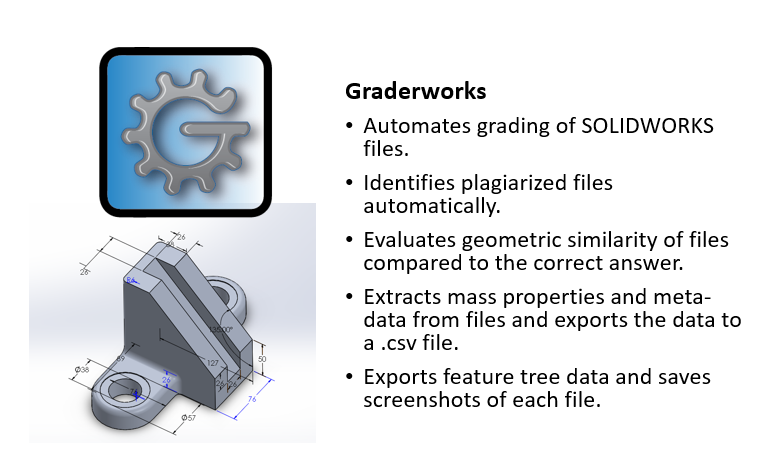 Graderworks increases the accuracy and objectivity of grading 3D models. Finding a small mistake within a SOLIDWORKS model is difficult and once you have found the error, objectively determining how many points should be taken off is very challenging. The geometric similarity tool within Graderworks helps solve these problems. Most mistakes that students make while modeling will change the final geometry enough that Graderworks will identify the student's model as being slightly dissimilar to the correct answer model. In our experience, the most common mistake is using under defined sketches within a Solidworks model. When Graderworks entirely determines grades, students realize that using fully defined sketches is essential to getting a 100% on their assignment.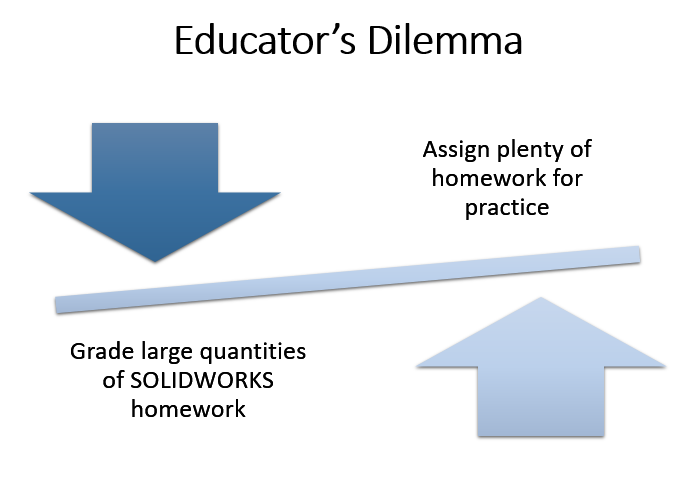 When a student does make a mistake, it can be difficult to determine how many points to take off. Graderworks geometric similarity tool helps the educator by objectively computing how similar the model is to the correct answer solution which then can be used as an objective grading criterion. Some professors prefer manual grading of student's work, but they use the geometric similarity tool to identify which student's models are not 100% correct and will require manual grading.
What is next?
Based on feedback from our customers, we are working on enhancing the geometric similarity comparison tool to show what is different between two models visually. This visualization will allow students to see what exactly they did wrong on their 3D model. The challenge with creating the tool is that it must perform comparisons without regard to the design tree.
---
Join our free mailing list!